Roofing Materials Available in Lawton, Buckburnett, & Nearby TX and OK
Our Roofing Services in Texas and Oklahoma
Roof repair & maintenance
Roof replacement
New roof installation
Gutter & downspout installation
Comprehensive roof inspections & estimates
Increase home value and protect what's inside with a long-lasting roof
There are many choices when it comes to the material of your roof. At Jabeau, we want to work on providing you with the best option possible. The material best suited for your home depends on the slope and complexity of the roof, the style of the house, the local climate, and of course the cost of the material.
Our roofing professionals can help you select the proper roofing materials for your house at a price you can afford. Roof replacement done with the right materials can allow your roof to look beautiful while giving you the protection you need.
We offer our quality roofing services including roof repair and roof maintenance in Wichita Falls, Lawton, Buckburnett, and other areas throughout North Texas. Contact us today for a free estimate!
Before and After
Before

After

Roof Replacement in North Richland Hills, TX

We had a customer call us with a few major leaks on his office building. There are two sections that extend off the front and back of the building that create foyers over the entrances. He had a modified bitumin roofing system on a flat roof and it was not holding water anymore. Not just any roofer is able to work on such dangerous landings as this, but The Pros at Jabeau can. We tore off the old roofing system and added a new Duro-Last PVC system to provide him with a leak free guarantee!!
---
Metal roofing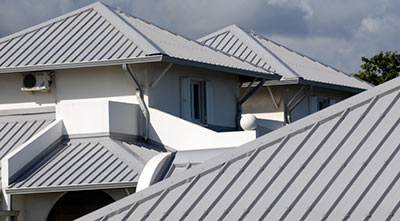 Metal roofing styles range from standing seam styles to shingle look-a-likes.
Metal roofing is a huge category that includes factory-formed and finished roofing panels as well as roofing panels that are cut and formed at the building site. Metal roofing has a long history of use on houses, farm structures and commercial buildings. Its main limitation is that it's not suitable for use on complex or curved roofs. Like corrugated roofing, many metal roofs can be installed directly over a worn-out older roof without tearing off the old roofing material.
---
Asphalt & asphalt fiberglass shingles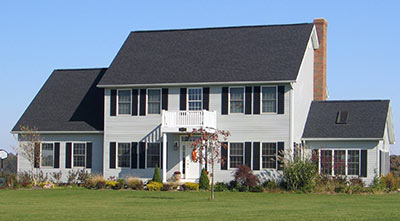 Manufacturers have created asphalt shingles that imitate the look of wood and slate.
Although these terms are used interchangeably, most roof shingles used today are technically known as asphalt fiberglass shingles. The fiberglass mat embedded in the shingle provides an extra measure of strength and tear resistance.
These shingles are the most popular type of roofing for sloped roofs because they're affordable, easy to install, durable, and available in a wide variety of colors. Premium grades of "laminated" asphalt fiberglass shingles are typically warrantied for 50 years.
---
Clay & concrete tile roofing
Tile roofs are most closely associated with Spanish style houses, but clay and concrete roofing products can be used with other architectural styles as well.
Clay and concrete tile roofing are often grouped together because they are both masonry roofing materials with similar installation requirements. Whether clay or concrete is used as the molding material, the end result is a roofing tile designed to overlap and/or interlock with adjacent tiles.
Clay and concrete tile roofs are well-suited for hot climates that don't have high rainfall; they shouldn't be installed in areas where heavy, regular rains and freezing temperatures are common.
---
Rubber roofing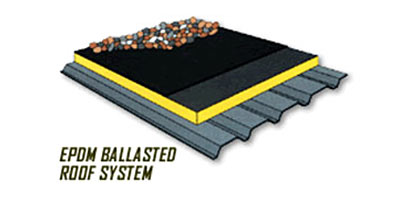 Rubber membrane roofs are often used to seal flat roofs over garages and porches. Credit: EPDM Roofing Association
Although rubber has been around for a long time, rubber roofing is fairly new. That's because it's taken a great deal of chemistry research to develop a thin rubber membrane with the durability and waterproof qualities required of a roofing material. Rubber roofing is sometimes referred to as EPDM roofing. EPDM is an abbreviation for ethylene propylene diene monomer, the highly engineered compound used to manufacture most types of rubber roofing. Rubber roofing is used primarily on flat or low-slop roofs in both commercial and residential buildings.
A "membrane roof" usually refers to a rubber or EPDM roof that is installed in a flat roof or a low-slope application. Many commercial buildings have membrane roofs; few houses do.
---
Composite Roofing
Composite shingles carry some of the industry's longest warranties.
The term "composite" can apply to several different types of roofing, since it simply implies that a number of different materials are used in the manufacturing process. Today one of the most common types of composite roofing is a simulated roofing slate that is made from resins and from rubber compounds extracted from reclaimed tires. This slate look-a-like offers excellent longevity and a lower installation price while providing the appearance of a traditional slate roof.
---
Wood shingles & shakes
Wood shingles and shake roofs are beautiful, but expect more maintenance compared to an asphalt roof.
Wood shingles and shakes usually come from red cedar, Alaskan yellow cedar or Eastern white cedar. These evergreens produce wood that is dimensionally-stable and naturally resistant to rot and insect attack.
The main difference between shingles and shakes is that shakes are split from the log and have a rough, random texture; shingles have a smoother surface because they're sawed. A wood roof is expensive, and requires extra skill to install. That's why most people avoid installing this type of roof unless they're dealing with an historic house.
---
Corrugated roofing
Corrugated metal roofing panels offer a great solution for sheds and other garden structures.
Corrugated roofing is easy to spot because of its distinctive form; it's a thin sheet that contains a symmetrical pattern of alternating ridges and grooves. Most corrugated roofing comes in sheet form, but large shingles are available from some manufacturers. This type of roofing can be made from steel, polycarbonate or an asphalt-fiberglass composite. It's more appropriate for agricultural and commercial buildings and for small sheds than it is for houses. One important advantage with corrugated roofing is that it can be fastened down over an existing shingled roof without removing the original roofing material.
---
Flat roofing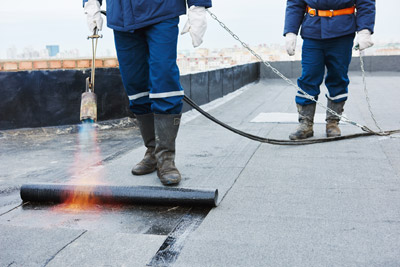 Because any flat roof is inherently prone to leaking, it's important to hire skilled installers whenever flat roofing is repaired, replaced or installed.
This roofing category is often grouped with "low-slope" roofing because many of the roofing treatments are the same. The most common flat-roofing materials used on residential and commercial buildings today include single-membrane systems like EPDM or rubber roofing, thermo-polyolefin (TPO) roofing and PVC roofing. Metal roofing is sometimes used on low-slope roofs, but not on flat roofs.
High-density Spray Polyurethane Foam (SPF) roofing is a system that coats the roof with a continuous layer of foam insulation that can also serve as the finished roof surface (as long as a protective coating is applied over the foam).
---
Slate roofing
Slate is king of roofing materials but finding someone who can install or repair it may be a challenge.
Most roofing slate used in the U.S. comes from slate deposits in Vermont and Pennsylvania.
Expensive to manufacture and tricky to install, this "stone" roof is among the most expensive available. When properly installed and maintained, a slate roof can last for 75 years or more.
---
Solar shingles & solar roofing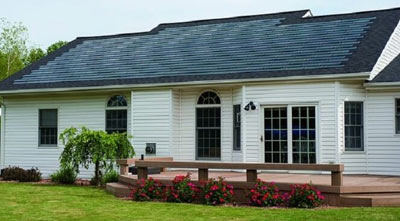 Solar shingles are far less obtrusive than bolt-on modules, but they are less efficient, too. Credit: Courtesy of The DOW Chemical Company
Solar shingles and solar roofing are examples of new "thin-film" photovoltaic technology referred to as "building-integrated photovoltaics," or BIPV. Solar shingles are designed in the standard size and shape of asphalt shingles so that they can be unobtrusively integrated into an asphalt shingle roof.
Solar roofing, or BIPV, can take the form of solar shingles or roofing tiles that contain solar cells.
---
Efficient new roofing options for your Texas and Oklahoma home!
The material being used on your roof can add its own benefits. It's important to understand the different options so you can choose what's best for your Texas and Oklahoma home. Whether you are interested in asphalt fiberglass shingles, wood shingles and shakes, or rubber roofing, Jabeau has the skills and materials necessary to install it!
A professional roofing contractor here at Jabeau will gladly talk you through the different options to be sure your decision making process goes smoothly. Call us at 1-844-385-8889 today for a free estimate in Lawton, Wichita Falls, Buckburnett, Randlett, Walters, Geronimo, Electra, Iowa Park, Holliday, Archer City, and nearby!
Looking for a price? Get a no cost, no obligation free estimate.